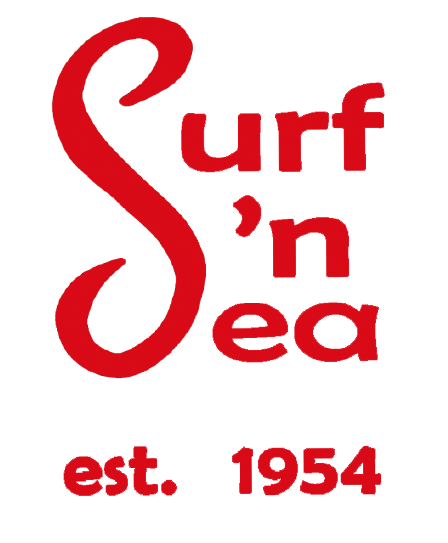 Surf 'n Sea Custom Wetsuits has been in business continuously since 1954. The majority of our business is from repeats and referrals which speaks well for the quality of our work.
To retain maximum stretch we cut our seams on a bevel and only glue. We don't sew – sewing just pokes holes in the neoprene material. If you stretch a material that has holes in it, it tears. Because we don't sew, you can have as few, or as many seams, as you want and we still guarantee all of our seams.
Only seams that are in stressed areas are seam taped for longer wear. The rest of the seams are sealed but left without tape as tape restricts the ability of a suit to stretch. Our unique bevel-cut and bonded seams do not leak and are GUARANTEED FOR THE LIFE OF THE SUIT.
Surf 'n Sea Custom Wetsuits uses only the highest quality neoprene available. We carry all the new flexible materials. Nothing yet beats real neoprene. Watch out for the imitation materials and the superstretch suits as they wear out very easily and rarely provide the promised added warmth.